BACKER
TYPE
Unit (Super Villager)
COLORS
Light
ABILITY
+1 Power to other units in this unit's Village.
POWER
3
GOLD
3
CREATED BY
Fridgecrisis Games
AVAILABLE
Villages (Kickstarter Exclusive)
For all of us who backed the Villages: a Construct and Conquer Card Game Kickstarter Campaign, this particular card represents all of us. As a stretch goal of $110,000, this bad boy was unlocked by all 2901 backers from around the world. As Fridgecrisis said: "The Super-est Villager! The final stretch goal. The goal to rule them all. Thank you for an amazing campaign, backers!"
The Backer's artwork is a nod to the color scheme of Kickstarter and his shield is based on the default avatar displayed next to each contributor's name.
Please take note this is a Kickstarter Exclusive and will not be available elsewhere.
Villagers
Edit
This unit gives a +1 power bonus to ALL other units in his village. As the Backer is a Light unit, he acts as a wild card and can be placed in ANY village, making him a target to steal. Watch out for him!
Strategies
Edit
You want this card. Light Units can be placed quickly into a village with two other colored units. His defense ability makes him precious in any village he is placed in. If you can place him with a Princess and a King, your Princess will gain power and your King will double the Backer's 3 gold value.
His bonus power to every unit is especially useful against cards such as the Dragon and the Kaiju as the bonus will make it much easier to beat these very powerful cards.
Alternate Art
Edit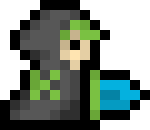 This art was part of a vote when the Backer card was announced. This was the second option that lost to the first option at the top of the page.