VILLAGES
TYPE
Base Game
TOTAL CARDS
72
Red Units
10
Orange Units
10
Yellow Units
10
Green Units
10
Blue Units
10
Purple Units
10
Light Units
0
Dark Units
0
Multiple Units
0
Animals
7
Buildings
5
YEAR
2011
CREATED BY
Fridgecrisis Games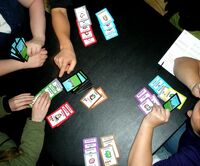 Villages started out as a modification (by Jaron Frost) of Rummy, called Thief. Its defining feature was stealing others' cards. With the addition of adorable pixel art (also by Jaron) and unique abilities for each character, over time it became Villages. After printing a few copies for him and his friends from an on-demand website called The Game Crafter, he decided to put the game up for sale. 1st and 2nd edition sold well, but it wasn't until the 3rd edition was released that any expansions were added.
For the 4th edition, Fridgecrisis decided to remake the entire game, adding many of the expansion units to the base game (like the Archer and Golem) and removing others (like the Paladin). He put it up on Kickstarter in January of 2014, and after receiving overwhelming support, added more cards and alternate artwork to the deck.
Villages Units

Edit
Villages Animals
Edit
Villages Buildings
Edit
___________________________________________________________________________________________________________________
Other Pages:
Trending pages
All items (28)
Community content is available under
CC-BY-SA
unless otherwise noted.