CHURCH
TYPE
Building
COLORS
Gray
ABILITY
Units in this building's Village get +1 Power against Dark units.
POWER
N/A
GOLD
4
CREATED BY
Fridgecrisis Games
AVAILABLE
Ghost Town (expansion)

A Church is a place of worship, where the religious gather to seek God's word, ask His forgiveness, or bask in holiness. People could seek Sanctuary in a church in early church history, where they were protected from government or military interference. This was due to fear of God's wrath and the wrath of then-powerful religious authority.
Churches are set on Holy ground and are said to ward off evil.
The Church is good for defending yourself from the powerful Dark cards.
Strategies
Edit
Unrevealed.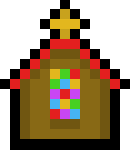 Community content is available under
CC-BY-SA
unless otherwise noted.