DRAGON
TYPE
Unit
COLORS
Red, Orange
ABILITY
N/A
POWER
5
GOLD
2
CREATED BY
Fridgecrisis Games
AVAILABLE
Villages
The Dragon is a stereotypical fantasy creature present in a large number of medieval and fantasy tales. They are usually large and scaly with giant wings to help them terrorise nearby villages. Their famed love for gold makes them a perfect addition to Villages.
While the Dragon doesn't have an ability, his 5 power makes him a formidable asset in your village or as a hired unit.
Strategies
Edit
The best thing about the Dragon card is its high power stat, making him almost impossible to beat for most units in the game. He has his weaknesses, however. In particular, a Dragon cannot beat a Knight in a fair fight due to the Knight's abilities, so watch out for him if you're using a Dragon.
As a Dragon costs 2 gold to hire, it is a viable strategy to use him as such to protect your villages from harm.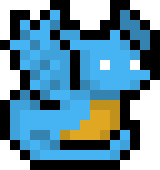 The alternate artwork for the dragon appears to be a reference to Pokemon, mixing a Dragonair with an Articuno. Jaron has stated that he would have liked to make a Chinese-style dragon, but his playtesters didn't like the result, opting unanimously for this model instead.
The alternate art is found on the Orange Dragon card.
Community content is available under
CC-BY-SA
unless otherwise noted.