HERO
TYPE
Unit
COLORS
Green, Blue
ABILITY
+2 Power when used by the player with the Low Score card.
POWER
3
GOLD
2
CREATED BY
Fridgecrisis Games
AVAILABLE
Villages
Ah, the timeless Hero, always there to defend the poor and the oppressed, he fights for a good cause. A common element of any story, he usually follows the Hero's Journey formula. The artwork may be inspired by the Fire Emblem series of video games, which generally feature a blue-haired protagonist.
The Hero will defend the poor, or in this case, the player with the Low Score card. This makes him a good comeback card.
Strategies
Edit
If you have the Low Score, place the Hero in a village as soon as possible and kidnap the card you need. If you do NOT have the card, watch out! If a hired unit is coming from the low scorer, it could be the Hero!
Additionally, certain cards like the Accountant can cause the Low Score card to swap places, granting or taking away the ability to use the Hero effectively.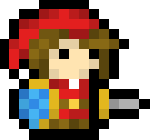 It's quite clear that the alternate art for the Hero is an homage to Link from the Legend of Zelda series, though some incarnations have him with blond hair and he typically wears green.
The alternate art is found on the Green Hero card.
Community content is available under
CC-BY-SA
unless otherwise noted.