INN
TYPE
Building
COLORS
Gray
ABILITY
Allows one unit of a different color to live in this building's Village. This guest unit can return to your hand on your next turn.
POWER
N/A
GOLD
3
CREATED BY
Fridgecrisis Games
AVAILABLE
Villages
A good place for rest, warmth and calm, the Inn is situated at the crossroads for all travelers.
Everybody is welcome in an Inn. Any unit can be placed in an Inn, no matter the color of the unit. The Inn is the only building to have multiple copies in the base game.
Strategies
Edit
This card allows any unit to stay in the village the Inn is placed, regardless of the color. This makes it a must-have, as you can then easily add a card you need, in any color. If you have valuable village, adding a good defense unit is a good idea. Adding a Farmer or King this way is also recommended. You can place both Kings in the same Village if you have the Inn, quadrupling the score of that Village--though others will try to stop you from maxing out your points, so be careful!
If someone else's Inn is empty, you can put your own card in it. You can also destroy an enemy's Inn with a Warrior, making the visiting unit return to the owner's hand.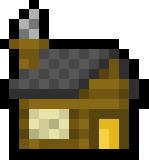 Homey.
The alternate art is found on one of two Inn cards.
Community content is available under
CC-BY-SA
unless otherwise noted.