MEDUSA
TYPE
Unit
COLORS
Dark
ABILITY
When this unit is flipped over after being hired or if this unit is in your hand when it is shown to an opponent, destroy a unit in one of your opponent's Villages.
POWER
1
GOLD
3
CREATED BY
Tiago Aguila Vigil

Fridgecrisis Games

AVAILABLE
Royalty Pack (expansion)
Based on the mythical creature, one of the three Gorgons, Medusa petrified anyone who looked directly at her. She was once a beautiful woman, proud of her beauty, and she confronted the Goddess Athena. After defeating her, Athena changed Medusa's hair and look. Her hair became snakes and her legs were replaced by a serpentine tail. In the myth, Perseus was able to defeat her by looking at a polished shield.
Created by Tiago Aguila Vigil, Medusa can destroy any card when you "look" at her. When a Scout attacks your village, she can look at the cards in your hand. Medusa makes a good surprise for the first player trying this trick on you.
Strategies
Edit
Medusa is a great card to keep in your hand to stop scouts from being sent to battle you. One of the best ways to use it is to keep it in your hand and hire it near the end. You can easily destroy a Princess (minus 5 gold for the opposing players) or a King (double village gold value).
Of course, you can always use it to remove a big defender in a weak village in the beginning and pillage that village more later.
The first name of this unit was 'Astronomer', a Blue Unit with the same Ability Text.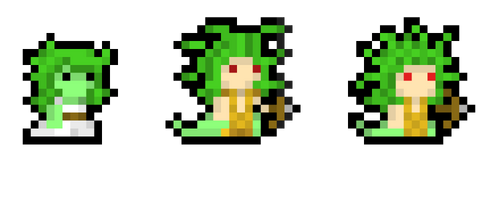 Community content is available under
CC-BY-SA
unless otherwise noted.