ORC
TYPE
Unit
COLORS
Red, Orange
ABILITY
When attacking, this unit's Power is equal to the number of units in the defending Village.
POWER
2
GOLD
2
CREATED BY
Fridgecrisis Games
AVAILABLE
Villages
Mythical humanoid creatures, generally described as brutish, aggressive and repulsive. They're a Fantasy-genre staple, made famous by J.R.R. Tolkien's Lord of the Rings trilogy. Those ape-like and pig-like creatures always come in numbers.
The more units the Orc is facing, the more powerful he becomes, with +1 power for each unit in the defending village.
Strategies
Edit
Always target the biggest village with this unit. Placing him in a village won't make him less dangerous, though he's not very good at defending.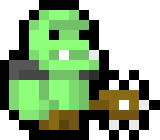 While the alternate art retains the Orc's green skin, he more closely resembles depictions of trolls or ogres, creatures closely related to Orcs. In Lord of the Rings, Orcs keep trolls chained and primed for battle. 
The alternate art is found on the Orange Orc card.
Community content is available under
CC-BY-SA
unless otherwise noted.