WARRIOR
TYPE
Unit
COLORS
Red, Orange, Blue
ABILITY
+1 Power when attacking.

As your Battle Reward, you can destroy a building in the defending Village.

POWER
2
GOLD
1
CREATED BY
Fridgecrisis Games
AVAILABLE
Villages
Warriors are renowned for being extremely fierce in combat. In certain cultures, like with the Vikings, it was common for warriors to destroy everything in their path, including the houses and other buildings of the people they were fighting.
In Villages, the Warrior's special ability allows him to destroy enemy buildings. This, coupled with his +1 power when attacking, makes the Warrior a very useful and dangerous card to have in your control.
Strategies
Edit
When you destroy an opponent's building, the card goes into their graveyard. Therefore, that building card will now cost the player, reducing their final score. Not only that, but buildings tend to have useful abilities like granting extra defense power or housing extra units, so it can hamper the other player's village to get rid of them.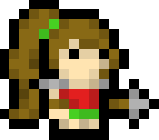 The alternate artwork for the Warrior appears to be based on an Amazon, a clan of all-female Warriors from Greek mythology. An actual Amazon card did exist in previous versions of Villages: Distant Lands, and it gained a power bonus against male players. The extremely long hair may also be a reference to Bayonetta.
This is one of a few artworks that swapped a card's normal gender.
The alternate art is found on the Red Warrior card.
Community content is available under
CC-BY-SA
unless otherwise noted.