WIZARD
TYPE
Unit
COLORS
Red, Orange, Blue, Purple
ABILITY
-3 Power against units of the same color.
POWER
4
GOLD
2
CREATED BY
Fridgecrisis Games
AVAILABLE
Villages
From Merlin to Harry Potter, Wizards are a Fantasy staple. They are mighty magic-wielders, and usually come ready with wit and wisdom. Magic is unruly, though, and can be dangerous if it backfires.
Wizards are the only units in the base game to have a negative ability. They're strong, but match their color and they're next-to-useless.
Strategies
Edit
They make for good defenders, especially when placed in a village. Most would-be attackers want his color, so they won't throw their same-color units at him, but caution is advised. He's especially weak when thrown against an Ace . Just don't forget that cards like the Pianist and Witch have temporary color-changing abilities that can help him win.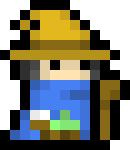 The yellow hat, blue robes, and staff of the alternate Wizard art are almost certainly in reference to the Black Mage class in Final Fantasy, a series of video games. As the name would suggest, the class uses a great deal of damaging magic.
The alternate art is found on the Orange and Blue Wizard cards.
Community content is available under
CC-BY-SA
unless otherwise noted.